Tuesday, April 18, 2023 / by Evelyn Lopes- Klarine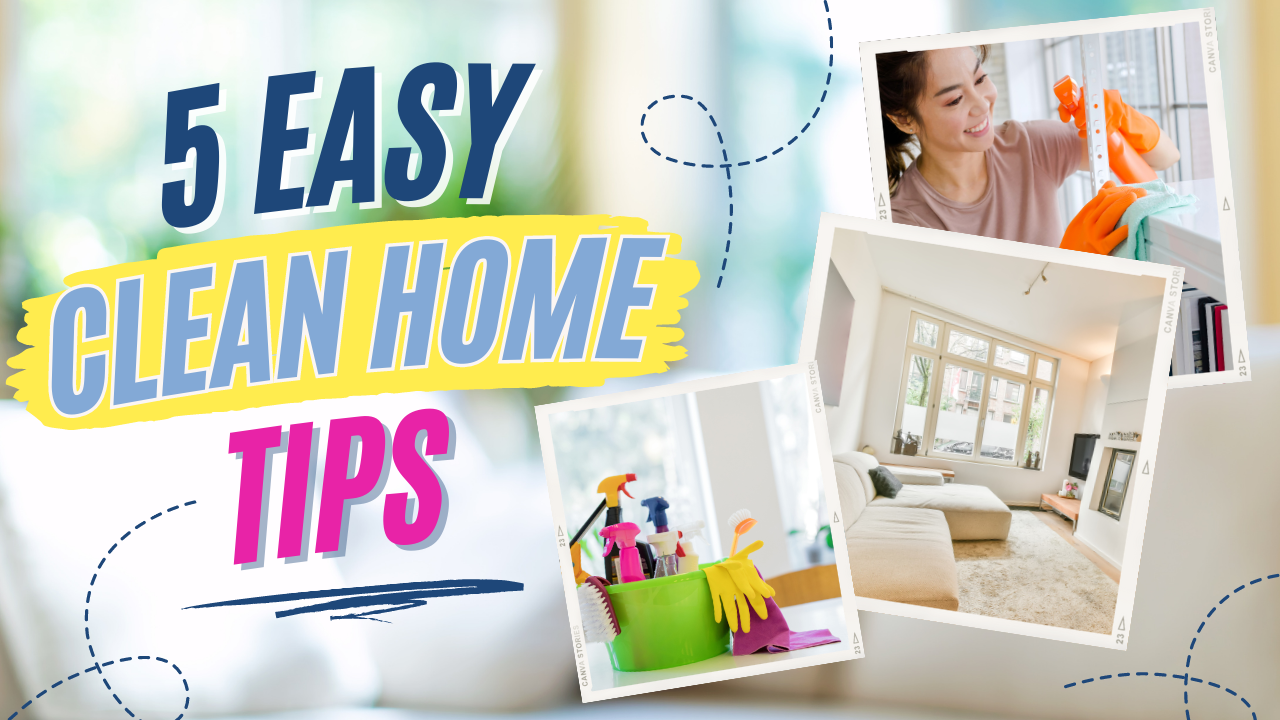 CLICK HERE



Is your home overdue for a spring cleaning?
If so, this message is for you.
We all know that cleaning can be a chore, but it doesn't have to be. With just a few easy changes to your daily routine, you can keep your home clean and organized without much effort. So, if you're ready to say goodbye to clutter and hello to a tidy home, keep watching!
Today, I'm sharing some simple tactics you can do right now that will help your home stay clean and organized all year long!
Here are some of my favourite startegies:
Tactic #1
Create a cleaning schedule One of the best ways to keep your home clean is to create a cleaning schedule. This schedule should include daily, weekly, and monthly tasks. For example, you might want to vacuum and dust daily, clean the bathrooms weekly, and do a deep clean once a month. By breaking up your cleaning tasks into smaller, more manageable chunks, you'll be more likely to stick to your schedule and keep your home looking its best.
Tactic #2
Make cleaning a daily habit Another tactic you can use to keep your home clean is to make cleaning a daily habit. This means taking just a few minutes each day to tidy up and put things away. For example, before you go to bed each night, take a few minutes to pick up any clutter and put things away. You can then start the next day on a fresh, clean plate! You can also make it a habit to clean up after yourself as you go throughout the day. This will prevent clutter from piling up and make it easier to keep your home clean.
Tactic #3
Get the whole family involved Finally, one of the best ways to keep your home clean is to get the whole family involved. Cleaning shouldn't be a one-person job. Encourage your family members to help out by assigning them specific tasks or setting up a rotating cleaning schedule. This will not only make cleaning easier and more efficient, but it will also teach your kids valuable life skills and help them develop a sense of responsibility.
Tactic #4
And the strategy that made the biggest difference for me is…to try and handle small tasks right away, which can reduce the need for lengthy cleaning sessions. And keeping the area clean and clutter free helps to reduce stress levels.
I try and work cleaning in my tasks. When preparing meals, I clean as i cook, rather than letting the dishes pile up. While the meal is simmering away, I clean the counters and put the dishes in the dishwasher and wash any pots and pans after use. Not only does this tip help to keep my counters clear, there is less mess to clean up after dinner which means more time to relax.
In the bathroom, I hang bath towels on a bar immediately after use. By allowing them to properly air dry, I can cut down on the frequency of laundering.
Tactic #5
Bring items with you when you leave a room. For example, return plates and cups to the kitchen right away rather than letting them stack up in the family room or your home office.
When coming home, hang up your coats and put shoes, backpacks and purses in the closet. It leaves the entryway tidy and clutter free.
If you implement these small changes, your home will stay neater—and you'll minimize the number of dedicated cleaning sessions you need to take on each week.
If you have questions or would like to talk about your specific situation and your options, feel free to reach out. You can call me directly at 905-965-5902 or you can scan the QR code to set up a call. My name is Evelyn Lopes with The Evelyn Lopes Realty Team and iPro Realty Ltd Brokerage, and I'm here to help.
---