Tuesday, July 4, 2023 / by Evelyn Lopes- Klarine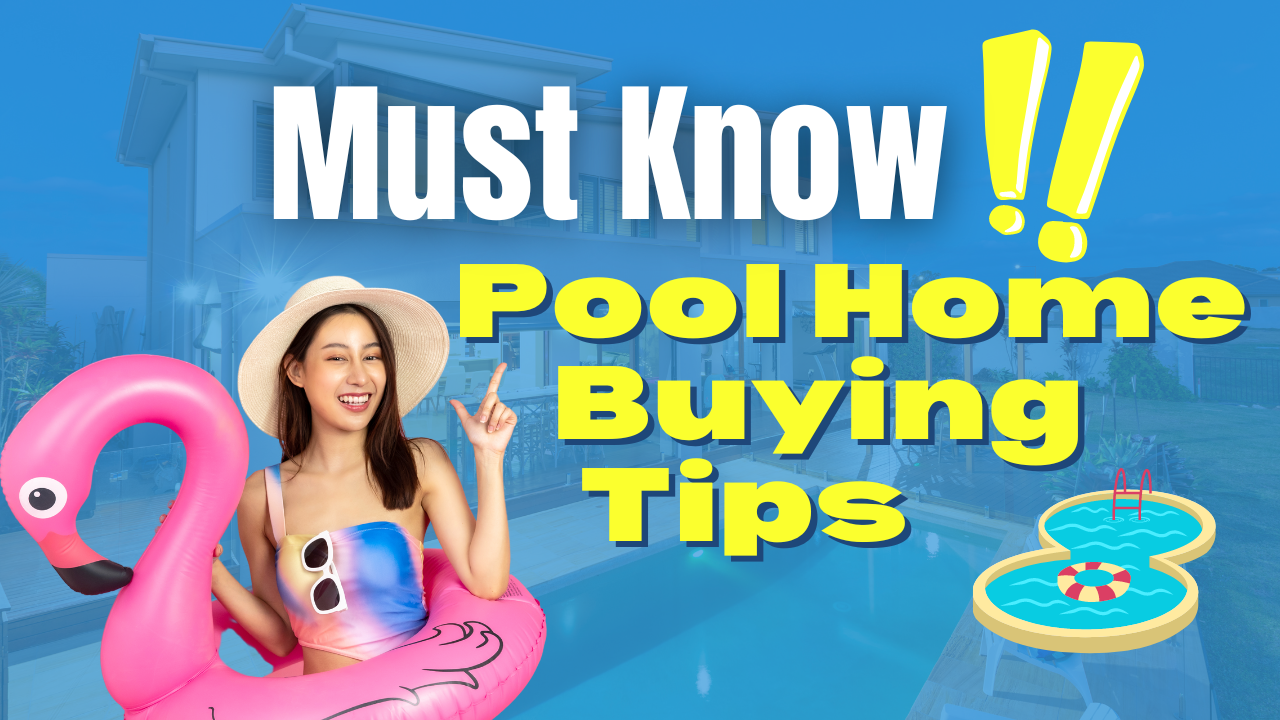 CLICK THE IMAGE TO WATCH THE FULL VIDEO

The Ultimate Guide to Buying a Home with a Pool: Tips, Maintenance & Costs
Dreaming of a home with a sparkling pool in the backyard? Picture yourself lounging by the water, kids splashing happily, and hosting epic pool parties. It's a lifestyle that can be absolutely amazing! But before you dive into this exciting decision, let's take a closer look at what you need to know about buying a home with a pool. Owning a pool can be a dream come true, offering endless opportunities for relaxation, recreation, and creating lasting memories right in your own backyard. No need to travel long distances on busy roads to get to the cottage, your water oasis is conveniently located in your own backyard ready to use whenever you feel like jumping in! But having a pool also comes with responsibilities and costs. Let's take a look at both the pros and cons of pool ownership, important factors to consider when purchasing a home with a pool, maintenance tips, and the associated costs. So, let's dive right-in, pun intended and make your pool dreams a reality!
The Benefits of Pool Ownership:
Owning a home with a pool opens up a world of incredible advantages. From providing a refreshing escape during hot summer days to becoming a hub for family fun and entertainment, a pool can transform your lifestyle. One of the perks of having a pool right in your backyard is the convenience. No more traveling to the cottage, no more stifling summer days with no where to cool off, having a pool can enhance your overall quality of life. A pool provides a spa-like getaway, it brings family and friends together, it is nice to sit by the pool and just relax- water does something to soothe the soul and a pool can make a positive splash and create memories that will last a lifetime!
Your Pool, Your Preferences:
Understanding your specific needs and preferences is crucial when choosing the perfect pool for your home. Explore various factors, such as pool size, shape, depth, and additional features like spas, waterfalls, or slides. By aligning the pool design with your intended use and personal style, you can create a space that reflects your unique vision and customize the space to suit you.
Evaluating Existing Pools:
If you're considering a home with an existing pool, there are several key factors to assess. Inspect the pool, determine the pool's age, construction materials, and overall condition. Check out the pools essential components like liners, pumps, filters, and heaters to ensure you have a clear understanding of their current condition and potential maintenance or replacement costs. Make informed decisions and ensure your pool is ready to enjoy!
Budgeting for Pool Ownership:
Owning a pool involves more than just the initial purchase. A pool does incorporate a cost for upkeep and regular maintenance. If you are thinking of installing a new pool take into consideration the costs of an in-ground vs on-ground or above ground version. Ongoing maintenance expenses, includes things like pool chemicals, equipment, and utility costs, create a realistic budget and see if it is affordable for you. Make sure your pool dreams align with your financial goals!
Maintenance Made Easy:
Proper pool maintenance is essential for keeping your pool safe, clean, and in optimal condition. Here are some valuable tips and best practices. Routine tasks include; checking and balancing pool chemicals, skimming debris, vacuuming, and general upkeep. There are benefits to investing in time-saving equipment like robotic pool cleaners, but keep in mind they can be expensive from $1600-$2000. To ensure your pool stays sparkling year-round you will have to regularly maintain it, this includes things like checking water levels. Checking pool filtres, backwashing, maintaining equipment. You will also have to open and close the pool at the end of the season. Are you able to maintain these tasks or will you need to hire out for all or part of these tasks? Creating a maintenance routine can make the upkeep of tasks easier.
Safety and Legal Considerations:
Safety should always be a top priority when it comes to pool ownership. It is important to adhering to local building permits, regulations, and safety codes. Check with your municipality in regards to regulations for pool fencing, self-closing gates, and also ensure that you have adequate home insurance coverage for the pool and potential liabilities. Make safety a cornerstone of your pool ownership journey!
Making an Informed Decision:
By weighing the pros and cons, considering your lifestyle and budget, and thoroughly evaluating the pool and its associated costs, you'll be equipped to determine whether owning a pool is right for you, then you can go ahead and choose the perfect home with a pool that suits your needs. Remember, careful planning, maintenance, and budgeting are essential for maximizing the enjoyment and value of your pool. Whether you're seeking relaxation, recreation, or a place to create lasting memories with family and friends, a home with a pool can offer it all. So, go ahead, take the plunge, and enjoy the incredible experience of owning your own private oasis! Make waves of joy and unforgettable moments!
---