Tuesday, August 8, 2023 / by Evelyn Lopes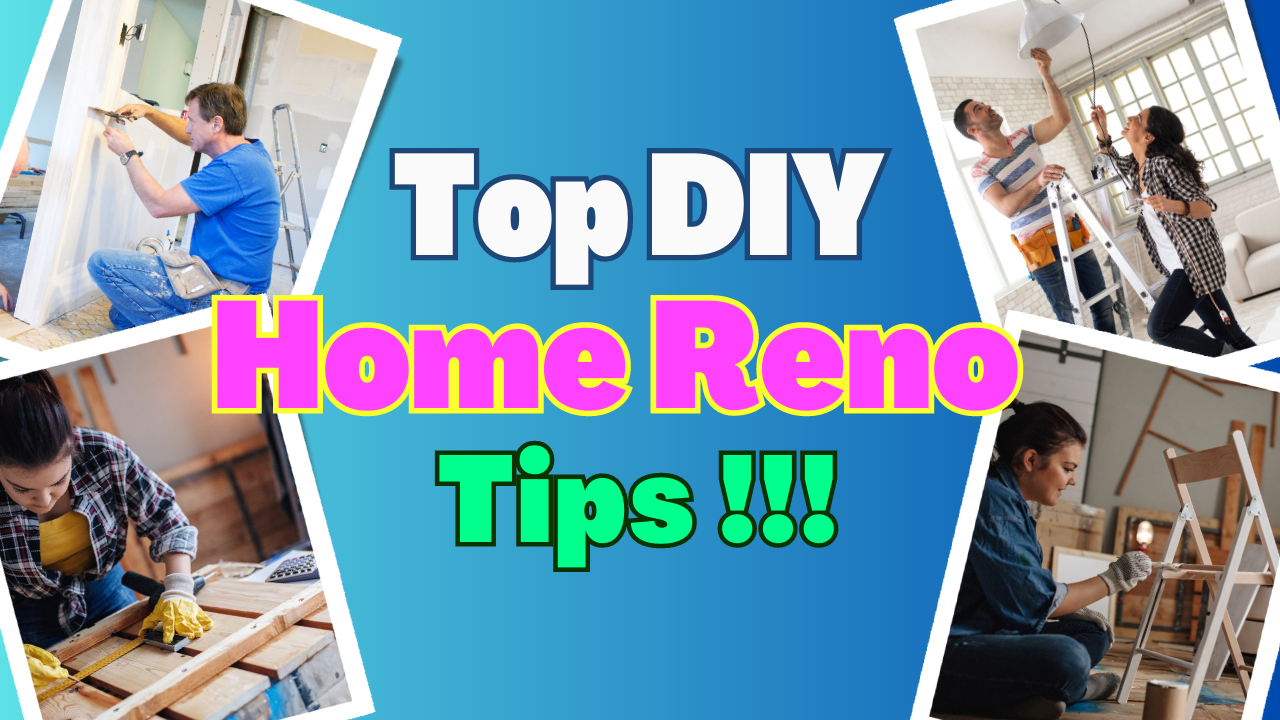 CLICK THE IMAGE TO WATCH THE FULL VIDEO
Top DIY Renos to Elevate Your Home's Value - Part Two- Elevate Your Space on a Budget
Hello again, Home warriors! Welcome back for Part Two of our Top DIY Home Renovation Tips series. Whether you're a seasoned homeowner or a first-time DIY enthusiast, embarking on a home renovation project can be both exciting and a bit intimidating. In Part One of this two part series, we explored some fantastic ideas to kickstart your home renovation journey. Now, in Part Two, we'll uncover some additional DIY tips that are sure to ignite your imagination and empower you to create a home you'll love. Focus on Energy Efficiency: Incorporate energy-efficient upgrades into your renovation plans. Replacing old appliances with new energy-efficient ones, upgrading to double-paned windows, adding insulation, and switching to energy-efficient LED lighting are excellent ways to reduce energy consumption and save on utility bills. Not only will this benefit the environment, but it will also bring long-term cost savings to your household. Create Open Spaces: If your home has small, cramped rooms, consider knocking down non-load-bearing walls to create an open floor plan. This simple change can instantly make your home feel more spacious, modern and inviting. Embracing open spaces can also improve the flow and functionality of your living areas, making them more versatile for your needs. DIY Furniture Makeovers: Revamp your furniture with DIY makeovers. Sand, paint, or reupholster old pieces to breathe new life into them and match your updated decor. Upcycling your furniture not only saves money but also adds a personal touch to your home. Get creative and experiment with different colors and finishes and new hardware if needed, to achieve the desired look. Install Smart Home Technology: Incorporate smart home technology into your renovation plans to add convenience, energy efficiency, and security to your living spaces. Smart thermostats, lighting systems, and security cameras are just a few examples of how you can modernize your home and make everyday living more comfortable and efficient. Beautify the Backyard: Transform your backyard into an oasis with DIY patio projects, garden beds, and cozy seating areas. Consider adding a fire pit or a pergola to create a charming outdoor space for relaxation and entertainment. A well-designed backyard can extend your living area and enhance your overall quality of life. Embrace Sustainable Materials: Make environmentally conscious choices by opting for sustainable and eco-friendly materials in your renovation. Bamboo flooring, reclaimed wood, and recycled materials are excellent options to reduce your ecological footprint while creating a beautiful and unique living space. DIY Art and Decor: Personalize your space with DIY art and decor projects. Custom art pieces add character and uniqueness to your home without breaking the bank. Express your creativity and style through paintings, wall hangings, and other handmade decorations. Install Crown Molding: Add a touch of elegance to your rooms with crown molding. This simple addition can elevate the entire look of your home and provide a polished finishing touch to your walls and ceilings. Utilize Vertical Space: Optimize storage by making the most of vertical space. Install shelves, floating cabinets, or wall-mounted storage solutions to keep your belongings organized without occupying valuable floor space. This is especially beneficial in smaller homes or rooms. Create a Relaxing Retreat: Design a calming retreat within your home, whether it's a cozy reading nook, a meditation space, or a spa-like bathroom. Having a dedicated area to unwind and rejuvenate can significantly improve your well-being and create a sanctuary within your home. BONUS TIP:
Personalize Your Space: Above all, infuse your personality into every aspect of your renovation. Showcase your favorite art, display cherished mementos, and choose decor that reflects your unique style and taste. Your home should be a reflection of who you are and what you love, when you are living in it. If you are remodeling and updating to sell, then choose colours and styles that are more neutral so as to appeal to a wide array of buyer tastes.
Conclusion: As you embark on your DIY home renovation journey, use these 21 tips from both Part One and Part Two to inspire and guide you. Remember to plan ahead, budget wisely, and most importantly, enjoy the process of transforming your living spaces. We hope these tips will help you create a home that is both aesthetically pleasing and functional. Happy renovating!
---