Tuesday, December 27, 2022 / by Evelyn Lopes
Divorce and Real Estate
What you need to know about Your House, Your Mortgage & Taxes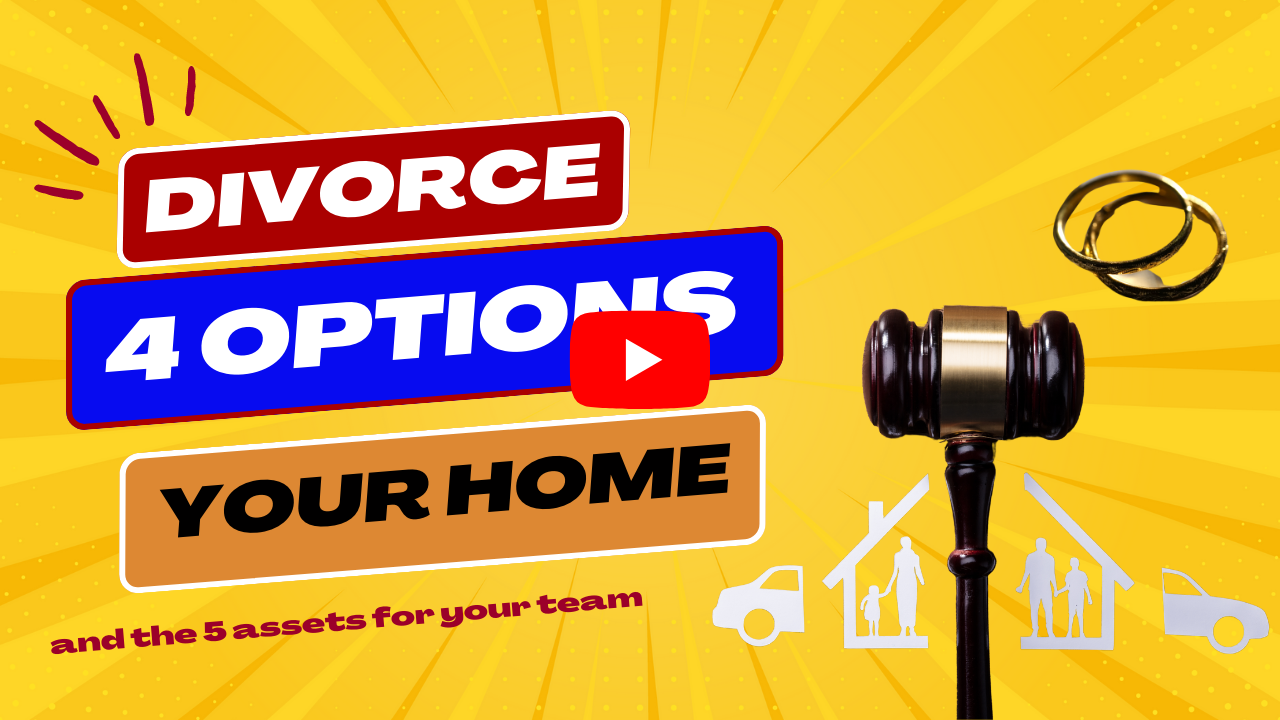 Divorce, if you or someone you know is going through a divorce, you know how emotional it can be. There are so many changes taking place and so many decisions to be made. It can be overwhelming!

So what do you need to know about your house, your mortgage, and taxes when going through a divorce? Read on to uncover answers to these important questions surrounding the process of going through a divorce.
Having neutral, third-party information about how your home, mortgage and taxes are affected, can help you make critical decisions in a logical rather than an emotional manner, thereby making the overall process of going through a divorce a little easier.
Engaging with professionals who are knowledgeable in their field about the divorce process is critical. There are 5 professionals you need on your side during a divorce.
1. A Legal Professional- Your Attorney.
Your attorney should be one who specializes and practices exclusively in Family Law. Experience matters. Keep in mind that your financial future and your parenting future (should children be involved) will depend on the decisions your lawyer will help you make.
2. Emotional Support- Your Therapist
The divorce process is stressful and emotional – full of ups and downs. You need to be healthy both physically and emotionally. Having a therapist will help you with the emotional turmoil and transitions you will face.
3. A Financial Professional- Your Accountant or Investment Advisor
Having a skilled and knowledgeable financial advisor will help you with expert opinions on values at the time of separation (which will be required by the Family Court for division of assets, alimony, support, interest in a business and the like). Your financial advisor will help you plan and be prepared for your future financial well being.
4. A Real Estate Professional- Your appraiser and or your Realtor
In the majority of cases, divorcing couples own at least one piece of real estate- the matrimonial home. In some cases, the parties involved will agree on the value of their real estate holdings and in other cases, they may disagree. An appraisal of your property by an expert will be crucial in illustrating to the Family Court, the true value of the property for the purpose of an equitable division of assets. If any properties are to be sold, you will want to have a highly skilled and experienced real estate professional onboard to list, market, negotiate and sell the property for the maximum dollar amount. Depending on the tax implications of any sales or transfers you will want a real estate professional who is experienced in working with divorcing couples and their tax advisors.
5. Co-parenting Professional, coach, or therapist
In divorce cases where there maybe child custody issues being contested, you will want to speak to your attorney to find out who in your area specializes in co-parenting therapy. You and your partner will likely both co-parent any children unless there have been extenuating circumstances such as child abuse, addictions, or imprisonment. Having guidance and emotional counseling in terms of co-parenting is beneficial especially when things get heated.
Finances and Money

While going through a divorce, one important factor centers around money. As you separate your assets, you are left with less than you had when you were together, and so it becomes increasingly important to avoid costly housing mistakes so that you can maintain the most amount of equity possible.
Divorce is a tough situation that opens many emotional and financial issues, that need to be solved. One of the most important decisions is what to do about the house.
In the midst of the heavy emotional and financial turmoil, what you need most is some non-emotional, straightforward, specific answers. Once you know how a divorce affects your home, your mortgage, and your taxes, critical decisions are easier. Neutral, third-party information can help you make logical, rather than emotional decisions.
Divorce real estate is a process whereby the matrimonial home is sold, and the equity is spilt. It is best if both parties going through the divorce can come to a mutual decision. During this process the goal of both parties is to net the most amount of money from their real estate holdings. The more the parties fight over the outcome, the more money goes toward their legal and other professional bills, thereby decreasing the net amount of money left in their pockets.
While going through a divorce, probably one of the first decisions is to determine whether you want to continue living in the house. Will the familiar surroundings bring you comfort and emotional security, or unpleasant memories? Do you want to minimize change by staying where you are or sell your home and move to a new place that offers a fresh, new start?
Only you can answer these questions, but there will almost certainly be some financial repercussions to your decision process. Think about What can you afford? Can you manage the old house on your new budget? Is refinancing possible? Or is it better to sell and buy? How much house can you buy on your new budget? Asking the right questions will enable you to make informed decisions that will be right for your situation.
You essentially have
4 basic housing options when in the midst of a divorce
. Your 4 Options are...
1. Sell the house now and divide up the proceeds.
2. Buy out your spouse.
3. Have your spouse buy you out.
4. Retain your ownership.
It's important for you to understand the financial implications of each of these scenarios.
1. (Sell the House Now and Divide Up the Proceeds)
If you decide to sell the House Now and Divide Up the Proceeds
Your primary consideration under this circumstance is to maximize your home's selling price. We can help you avoid the common mistakes most homeowners make which Compromise this outcome. As you work to get your financial affairs in order, make sure you understand what your net proceeds will be - that is how much money will you have after selling expenses, and after determining what your split of the proceeds will be. It is important to note that the split may not be 50/50, the source of the original down payment, and the legislative property laws in your area. It would be best to seek legal counsel on these matters. If you need some suggestions, feel free to call us and we would be happy to provide you with some options.
2. (Buy Out Your Spouse)
If you intend to keep the house yourself and buy out your partner, you'll have to determine how you'll continue to meet your monthly financial obligations. Keep in mind that you will now only have one salary. If you used two incomes to qualify for the old loan, refinancing on your own might be a challenge.
3. (Have Your Spouse Buy You Out)
You may want to consider the option of having your spouse buy you out. If you are the one who is leaving, you have the opportunity to start again in new surroundings with cash in your pocket. However, be aware that if the old home loan is not refinanced, most lenders will consider both you and your spouse as original co-signers to be liable for the mortgage. This liability may make qualifying for a new mortgage difficult for you, if you decide to purchase a home, even though you won't have legal ownership of the old one.
4. (Retain Joint Ownership)
Some divorcing couples postpone a financial decision with respect to the home and retain joint ownership for a period of time even though only one spouse lives there. While this temporary situation means you have no immediate worries in this regard, keep your eye on tax considerations that may change, from the time of your divorce to the time of the ultimate sale.
(When You Decide to Sell)
If you and your spouse decide to sell your home, it will be important to work together through a professional to maximize your return. Differences aside, you both should be present when a listing contract is put together. Both of you should understand and sign this contract, and both should be active in the ultimate negotiations.
When You Buy Your Next Home
Use the proceeds from your previous home, or buy out, to determine an affordable price range for your next home. Maintain a clear focus on getting the right home to suit your new situation. You may wish to review with a realtor who offers a house-hunting service to help find a home that matches your new home buying criteria.
For a FREE COPY of our Divorce Real Estate Guide call us or visit
www.DivorceInfo4RealEstate.com
If you have questions or would like to talk about your specific situation and your options, feel free to reach out. You can call me direct at 905-965-5902 or you can scan the QR code to set up a call. My name is Evelyn Lopes with The Evelyn Lopes Realty Team and iPro Realty Ltd Brokerage, and I'm here to help.
---