Monday, March 20, 2023 / by Evelyn Lopes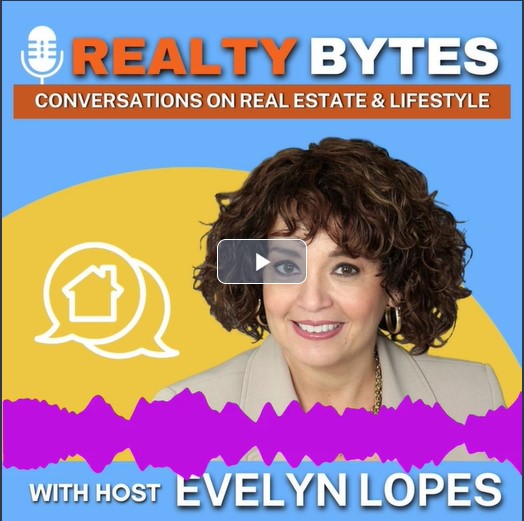 Expert Insights: Navigating Mortgage Fundamentals with Ease
In this inaugural episode of Realty Bites, host, and realtor Evelyn Lopes of The Evelyn Lopes Realty team and iPro Realty Brokerage, introduces Walid Mutahar, a mortgage agent with Garland Mortgages.
Walid joins the podcast to discuss some of the fundamentals involved when a person is looking to get or change a mortgage. The conversation touches upon current national and local market conditions, how they impact buyers and sellers, and they provide tips and education on real estate and lifestyle topics. Walid also shares his insights on the mortgage market over the past year and where he thinks mortgages are heading this year. He notes that in 2021, rates bottomed out at close to zero, leading to skyrocketing prices as everyone tried to lock in low rates. However, in 2022, rates started to slowly creep up based on inflation numbers, with the Bank of Canada increasing the prime interest rate or key interest rate, which affected the prime lending rate across all banks. Rates went from one to 2% to around six and a half percent, leading to impacts on prices, affordability, and the housing market. Looking forward, it's uncertain whether rates will continue to increase, and Walid believes that the sweet spot is around three and a half percent. He also notes that while 1% isn't normal, people are slowly adjusting to the current rate increases.
The conversation shifts to the difference between mortgage brokers and mortgage specialists. A mortgage specialist works for a specific lender, while a broker deals with over 40 different lenders, including private lenders, chartered banks, and credit unions. Brokers provide more options and policies to better suit the client's needs. Broker fees depend on the mortgage type, but generally, there are no fees when dealing with charter banks, credit unions, or monoline lenders. Garland Mortgage is in Mississauga, Ontario, but they are licensed to work across Canada. The difference between a conventional mortgage and a high ratio mortgage is discussed, with the latter being backend insured by one of three insurers in Canada, allowing for lower rates.
The discussion turns to how insurance for mortgages protects the lender from default, allowing them to offer better rates. Different types of mortgages are also mentioned, including equity takeout mortgages, reverse mortgages, refinances, and stated income mortgages for self-employed borrowers. As a mortgage broker, the speaker can offer advice on which type of mortgage would be the best fit for a client's unique situation, including if they plan to sell the property before the end of their term. The conversation also notes that the best rate is not always the most important factor to consider when selecting a mortgage.
The amount of money you need to buy a home in Canada, including Ontario, can vary depending on several factors such as the location, type of property, down payment, closing costs, and other fees. Generally, you will need a minimum down payment of 5% of the purchase price for a home up to $500,000, and 10% of the purchase price for any amount above $500,000 up to $1 million. For homes above $1 million, the down payment requirement is 20%.
It's important to note that you will also need to cover other costs such as legal fees, appraisal fees, home inspection fees, land transfer taxes, and property insurance. These additional costs can add up to several thousands of dollars, so it's important to budget accordingly. It's always a good idea to consult with a mortgage broker or a financial advisor to get a better understanding of the costs involved in buying a home.
in this portion of the conversation, Walid discusses the down payment requirements for purchasing a home and mentions that for purchases under a million dollars, the down payment is 5% of the first 500,000 and 10% of the balance. For purchases over a million dollars, the down payment is typically 20%. Other costs that buyers should budget for when purchasing a home are also discussed, such as legal fees, appraisal costs, and land transfer taxes. The difference between a pre-qualification and a pre-approval is also noted.
Differences between pre-qualification and pre-approval for a mortgage are broken down. Pre-qualification is a simple process of asking clients a few qualifying questions to get a rough estimate of what they could qualify for, whereas pre-approval is more in-depth, requiring clients to provide all the income documents requested by the mortgage professional. The pre-approval is a more informative process and is crucial in a rising interest rate environment as it protects clients if rates go up. Pre-approval also gives buyers a strong negotiating position and is essential when considering buying a home. The pre-approval process is free, and buyers need to provide various documents such as pay stubs, T4 slips, and tax returns.
The text is a conversation between two people, one of whom is a mortgage broker. They discuss mortgage qualification parameters such as gross debt servicing ratio (GDS) and total debt servicing (TDS), which are used to determine a borrower's ability to repay their mortgage. GDS represents housing costs over total monthly income, while TDS represents all debts over total monthly income. The broker explains that it's important to know the options and policies of each lender when calculating GDS and TDS ratios. They also mention the importance of budgeting for additional monthly expenses and not stretching the qualification too thin. The conversation ends with a discussion about how condo fees and maintenance fees affect the borrower's borrowing capacity.
The conversation is about mortgages and what buyers should consider other than interest rates. It is important to understand your needs and where you are in your life cycle. For example, if you are a newly engaged couple, it might not make sense to lock into a five-year fixed mortgage because once you get married, you may want to upsize. You should also ensure that your mortgage is flexible and that you can port it from one property to another. It is important to have a clear understanding of the penalties if you need to break the mortgage, as some lenders may have a low sticker price but high penalty fees. Finally, accessibility to your mortgage lender and having a solid understanding of who you are partnering with are also important considerations. The speaker advises that success in buying a home takes strategizing and planning, and that potential buyers should be willing to do the work.
FREE RESOURCES
Thinking about applying for a mortgage? Check out these valuable checklists- FREE INSTANT DOWNLOAD
Mortgage Application Document Checklist and 5 Critical Questions to Ask Your Lender
CLICK HERE for access.
CONTACT INFORMATION
Walid Mutahar
Garland Mortgages
289-439-5111
walid@garlandmortgage.ca
Evelyn Lopes
Realtor | The Evelyn Lopes Realty Team
iPro Realty Ltd., Brokerage
905-965-5902
evelyn@evelynLopes.com
---