Tuesday, October 24, 2023 / by Evelyn Lopes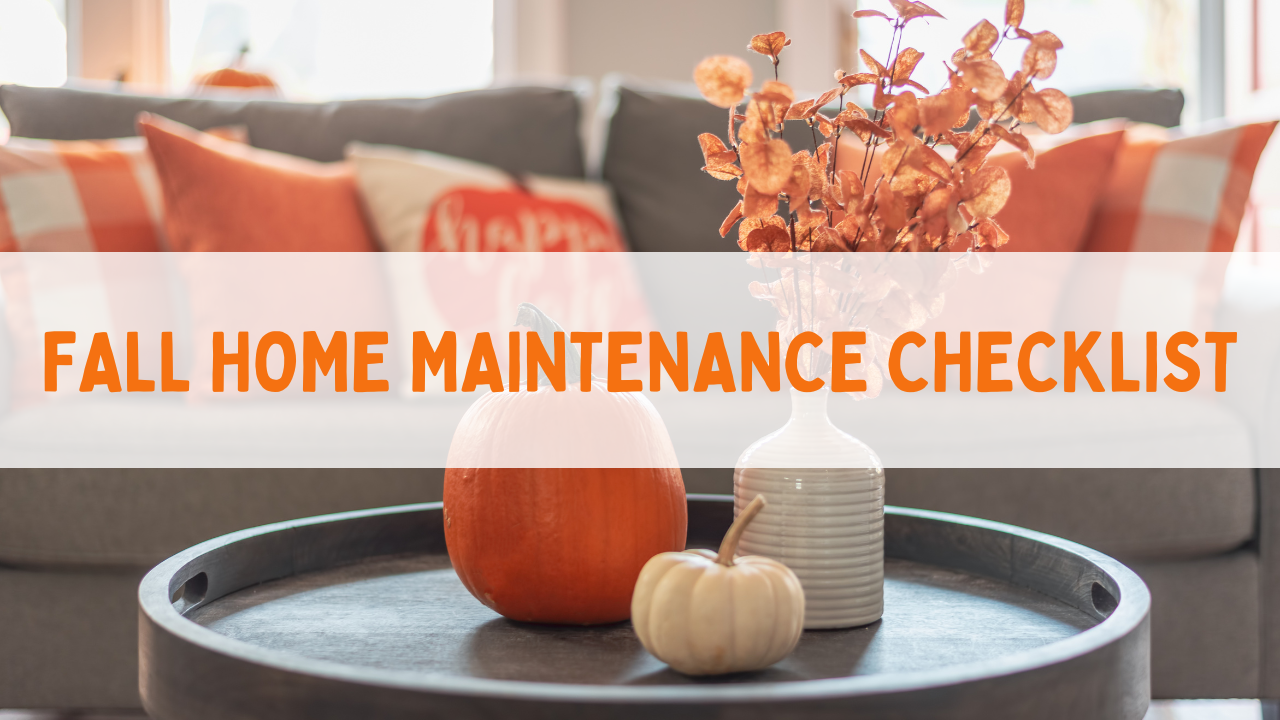 As the leaves begin to turn and the air gets a little crisper, it's the perfect time to transition your home for fall. Think of your home as a dear friend - it deserves some regular care and attention to stay cozy and inviting. In this blog post, we're going to take you through your October Monthly Home Maintenance Checklist. These small tasks may seem like a chore, but trust us, they'll make a big difference in the long run.
Clean Up the Yard for Winter ??
As the season changes, it's essential to prepare your yard for the colder months. Rake up those fallen leaves, trim back overgrown bushes, and store away any summer furniture or equipment. It'll not only make your yard look tidy but also help prevent damage from winter weather.
Tidy and Store Seasonal Items ??
Flower pots, garden tools, and other seasonal items can clutter up your outdoor space. Clean them up, store them properly, and consider organizing your shed or storage area. It'll make finding things next spring a breeze.
Declutter and Organize the Coat Closet/Mudroom ??
With the colder weather, you'll be reaching for those coats, scarves, and boots. Take the time to declutter your coat closet or mudroom. Donate items you no longer need and install hooks or shelves to keep everything organized and accessible.
Get Organized for Thanksgiving and Halloween ????
With these two festive holidays just around the corner, now is the perfect time to start planning. Take inventory of your decorations, make a shopping list for any missing items, and consider your hosting needs. Being prepared will make these celebrations stress-free and enjoyable.
Change Bed Linens for the New Season ???
There's something comforting about fresh, seasonally appropriate bedding. Swap out your summer linens for warmer, cozier options. It'll not only help regulate your body temperature but also give your bedroom an instant fall makeover.
Wash Windows (Inside + Out) ??
With the sun lower in the sky, those fingerprints and smudges on your windows become more noticeable. Take some time to wash both the inside and outside of your windows. You'll be amazed at how much brighter and cleaner your home will feel.
Declutter and Organize the Family Room ??
The family room tends to gather clutter throughout the year. Go through your books, DVDs, and electronics. Consider donating what you no longer need, and invest in some stylish storage solutions to keep the room inviting and organized.
Shampoo the Carpets ??
Give your carpets a deep clean to remove built-up dirt and allergens. Whether you hire a professional or tackle it as a DIY project, clean carpets will make your home feel fresh and inviting.
Clean the Light Fixtures ?
Don't forget to look up! Dust and dirt can accumulate on light fixtures over time. Take a moment to clean them. You'll be surprised at how much brighter your rooms will be.
Clear Closets of Summer Coats and Shoes ??
With the change of season, it's time to switch out your closet contents. Store away those summer coats and shoes, and make room for your fall and winter wardrobe.
Maintaining your home isn't just about fixing things; it's about creating a space that feels truly yours. A place where every nook and cranny reflects your care and personality. So, grab your toolboxes, roll up your sleeves, and give your home the love it deserves this October. A cozy home equals a comfy - happy life!
---