Tuesday, December 13, 2022 / by Evelyn Lopes
Home Owners Insurance Coverage | The Ultimate Guide in Real Estate | What you Need To Know ??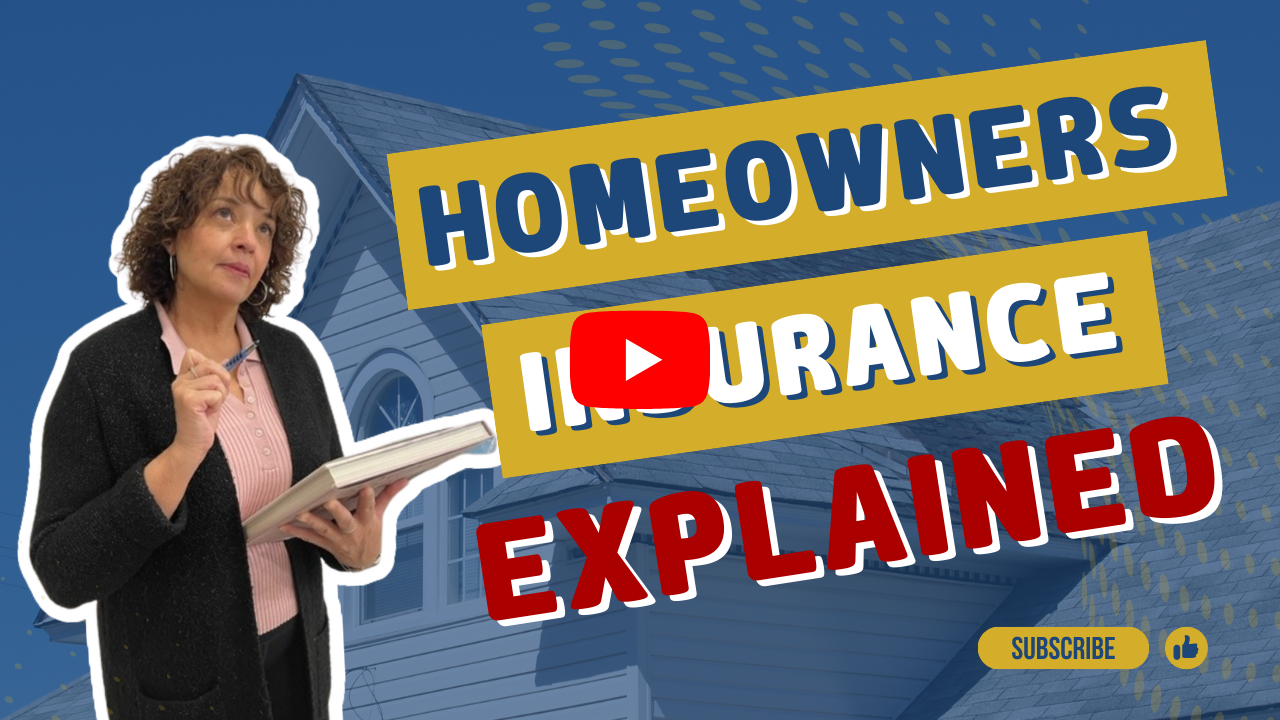 With the recent events of hurricane Fiona which devastated the Atlantic provinces; hurricane Ian which tore across Florida, wild fires out west, floods and other events, people are talking about homeowners insurance coverage

What is Homeowner's insurance?

Why do you need it?

and How do you know if you have enough Homeowner's insurance coverage for your real estate investments?

Read on to get answers to these important questions as well as explaining other common home insurance questions, that most homeowners ask, about home insurance coverage, whether they are buying their first home or their 10th.

Learn everything you need to know about homeowners' insurance!

WHAT IS HOMEOWNERS INSURANCE?

Homeowners insurance, provides financial protection against loss due to disasters, theft and accidents. Most standard policies include 4 essential types of coverage.

1. Coverage for the structure of your home.
2. Coverage for your personal belongings.

3. Liability protection.

4. Coverage for additional livings expenses.

A home Insurance Premium refers to the amount you will pay for your coverage

The deductible on the policy refers to how much you are responsible for, BEFORE your insurance kicks in. Usually the higher the deductible, the lower the premium.

It is important to keep in mind who is providing your insurance coverage? Is it a small company or is it a large national company that has a lot of financial backing.

Who is your insurance agent? Is it someone who will fight for you, or will you end up having to call a long list of numbers in search of someone with some answers? Keep this in mind when shopping for insurance. It is not just the cost of insurance, but the ability to deliver the coverage easily if needed. Your insurance is only as good as the policy and the ability to be paid out and covered on a claim.

WHY DO YOU NEED INSURANCE?

When purchasing a home, your mortgage lenders will require homeowner's insurance. They want to make sure that if anything happens to your home, the balance of the loan can be repaid. But what many homeowners don't realize, is that they may need more coverage than what is required by the lender.

Not all insurance policies are created equal.

Adequate homeowners' insurance is critical. Make sure that you are covered for all YOUR needs! Find out what is and what is not covered under your policy.

Homeowner's insurance is an insurance that covers the structure of your home- which is essentially the cost to rebuild the home should something happen to the property such as a fire, a hurricane, lightning or other disasters that are (and here is the important word) LISTED in your policy.

Most policies will also cover a detached structure such as a garage or tool shed- however, the amount of these additional structures is usually only covered to 10% of the amount of your insurance that you have on your home.

A standard policy usually will Not pay for damage caused by a flood, earthquake or routine wear and tear. Be sure to check "exactly" what your policy does and does Not cover and ensure that it is adequate for YOUR needs.

Most policies also automatically cover your belongings, that are in the home up to a specified amount. But there are many factors to consider when determining whether you have enough homeowner's insurance. For example, do you have expensive jewelry, cameras, paintings, collector items and such? IF you do, you may want to take out an extended policy or floater for those specific valuables.

Your insurance agent can sell you extra coverage should you need it. It is also worth noting, that the standard coverage often covers the cash value of your belongings. If you want them covered for full replacement value, you can obtain coverage for that, at an additional charge.

Your home itself, should have enough coverage to rebuild it at current construction costs. That number could be more or less than the amount you initially paid for the home and will likely be higher than the amount of your mortgage.

Your mortgage lender will probably only require you to have enough insurance for the mortgage, so, considering additional coverage is wise!

In the event of a disaster such as a hurricane, building costs rise. That means your policy limits may be lower than what it will cost to rebuild. Extended or guaranteed replacement policies are available, that will pay more than the standard policy's limits in such a situation.

Most homeowner's insurance also covers liability to a certain extent. For example, if someone is injured or occurs damage to their property while on your property, the coverage will include your court costs and damages up to a specified amount. When arranging for insurance ask how much liability insurance is being provided. Whether you need additional coverage, once again depends on your specific situation. It is best to speak to your insurance agent and ensure that you are adequately protected.

One way to determine how much homeowner's insurance you will need, is to multiply the square footage of your home by the building cost per square foot in your local area. You can get this information from your insurance agent. Keep in mind, that if your home has high end finishes, you may want to take that into account when determining building cost per square foot.

You may also want to investigate what your insurance policy covers and what it does not.

Does your insurance cover risks from natural disasters such as hurricane, tornados, floods, forest fires, wind or ice storms?

Does it cover risks to you and those who visit you?

If you are living in a co-op or condo, your insurance coverage needs will most likely differ. Because co-op and condominium owners share their building structures, two policies - a master policy and anindividual policy are required to fully protect all parties involved.

Your individual situation and factors may necessitateadditional coverage. Speak to your insurance provider to determine what is and what is Not covered in your policy.

You may also want to ask about deductible amounts within the policy as well.

Adequate homeowner's insurance is important in case anything happens to your home or belongings. Getting proper coverage when you purchase your home and keeping it even after your mortgage is paid off, can give you peace of mind. It is good to know that everything is covered in case of a disaster.

If you have questions or would like to speak to one of our trusted insurance agents feel free to reach out- we are here to help! The Evelyn Lopes Realty Team, iPro Realty Ltd., Brokerage.

You can scan the QR code below to book a free call- no obligation, or call us direct at 905-965-5902.