Tuesday, May 23, 2023 / by Evelyn Lopes- Klarine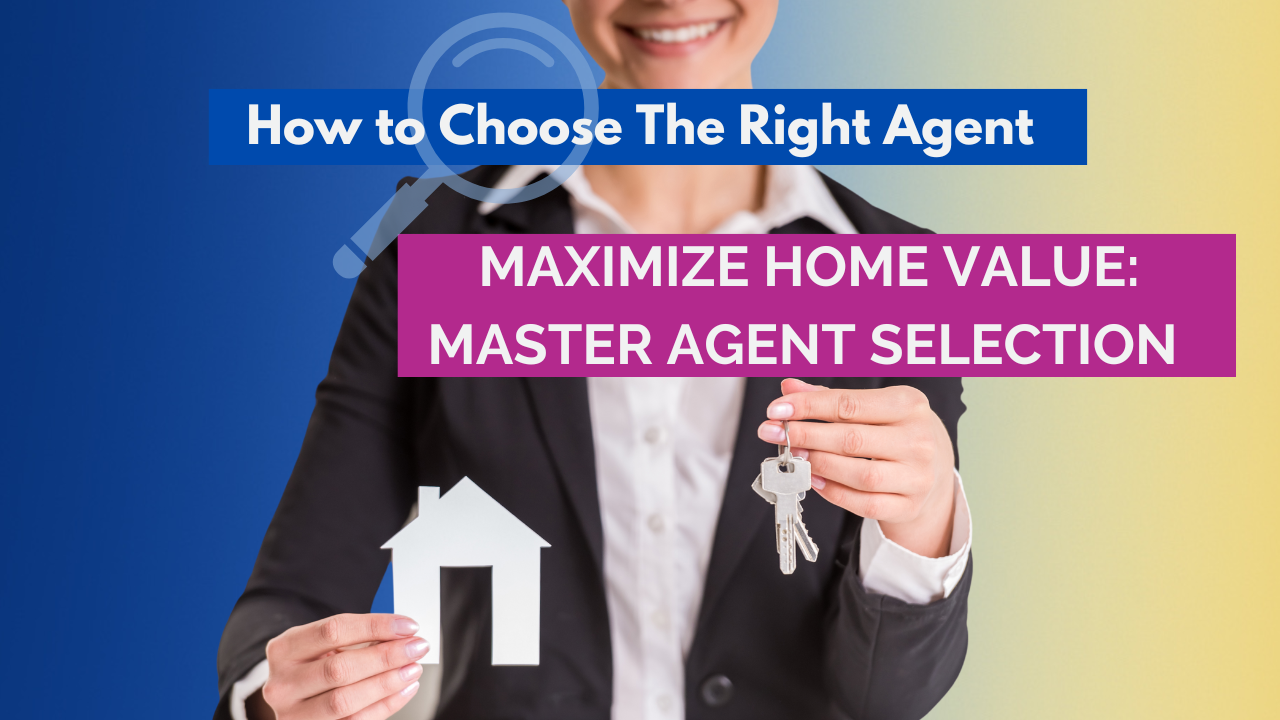 Unlock the True Potential of Your Home Sale with the Right Real Estate Agent
How to Choose the Right Agent: The Key to Selling Your Home for the Highest Price and Outstanding Service

Have you ever found yourself contemplating, "How can I sell my house for the maximum possible price?" If you're like most home sellers, the answer is a resounding "Yes!" After all, who wouldn't want to receive top dollar for their property within their preferred timeline, while enjoying exceptional service and superior results? But here's the key: achieving this dream isn't just about the property or market conditions – it's primarily about the real estate agent you choose to guide you through this journey.

Unveiling the Agent's Role
Real estate agents are like snowflakes; no two are entirely alike. Despite operating within the same brokerage or sharing the same license, agents differ vastly in their capabilities, resources, and strategies. This diversity can significantly impact the price your property fetches, how quickly it sells, and the overall experience you endure.

The most effective agents come with a robust, innovative, and proven marketing strategy. They understand the real estate processes, but they also understand people. They know how to present your property in the best light to attract potential buyers who see the value and are willing to pay for it. Remember, it's the agent, not the brokerage, that plays the most pivotal role in finding the most qualified buyer for your home.

Avoiding the Pitfalls
As you embark on your home-selling journey, let's review some common mistakes to avoid. It's all too easy to select an agent simply because you know them or because they promise the highest selling price or the lowest commission. However, the real measure of an agent's effectiveness lies in their marketing plan. Your focus should be on finding an agent who can attract the right buyers to your home, ensuring you net the highest amount after all expenses. Ensure that the agent you select has a systemized and proven marketing system for your unique home, detailing all their marketing efforts.

Communication – A Core Principle
We've all heard horror stories of home sellers feeling left in the dark by their agents. We operate differently. By providing a written communication and satisfaction guarantee upfront, The Evelyn Lopes Realty Team, ensures that you're not merely lured by promises made today but are continually satisfied by our high-level service and promise guarantees. And with us, you're never bound by a lengthy contract.

Getting the Highest Price – The Game of Supply and Demand
The principle of supply and demand is key in real estate. The agent who can stimulate the most demand for your home will likely secure you the highest price. We understand that specific buyers might value certain features of your home more than others, making them willing to pay a premium. Whether it's the number of bedrooms, energy efficiency, location, or other unique features, we employ specific marketing strategies to attract those ideal buyers who appreciate the unique characteristics of your property.

Unleashing Unique Programs
Once we list your home, we trigger our extensive marketing systems. Our specialized knowledge, cutting-edge technology, and exclusive consumer benefit programs create more demand for your property, leading to superior results and maximum exposure. Plus, we boast a database of over 17,000+ registered home buyers, meaning we might already have the perfect buyer waiting for your home! Ask about our Database of Buyers Home Match System.

Taking the First Steps
Our process begins with a simple phone consultation. You share details about your home, and we get a sense of your moving plans. We then review your property, provide an asking price recommendation, and give a room-by-room analysis to ensure you net the maximum possible amount. We will also review all of the costs associated with selling and provide you with a net sheet so that you know exactly how much money you will have in your pocket after all is said and done. This process helps you make informed decisions based on accurate and relevant information.

Adopting a Team Approach
There is a lot to do in selling a home properly. Our team approach offers an unmatched service, with each team member specializing in different aspects of the home selling process. This strategy ensures that no task gets overlooked, and you receive comprehensive service throughout your journey.

Providing Home Buyer Services
If you plan to purchase another home, we can help you identify the best available properties matching your criteria. Our VIP Home Finder Service will provide you priority access to homes that meet your criteria, including those not publicly listed.

Making the Right Call
The sale or purchase of a home is one of the most important financial decisions you'll make. And we're here to ensure that it's smooth, successful, and satisfying. Call or text us today at 905-965-5902 or schedule a 15 minute Free, no obligation Discovery Call, by visiting https://calendly.com/evelynlopes/consultation-meeting-evelyn-lopes-realty-team and start your journey with confidence.
Thank you for considering our service. We look forward to hearing from you soon!
CHECK OUT OUR VIDEO ON THIS TOPIC AT : https://youtu.be/rb5DZK0U2U4

---