Tuesday, February 21, 2023 / by Evelyn Lopes
PROS AND CONS OF SELLING VS RENTING MY HOME
EP#80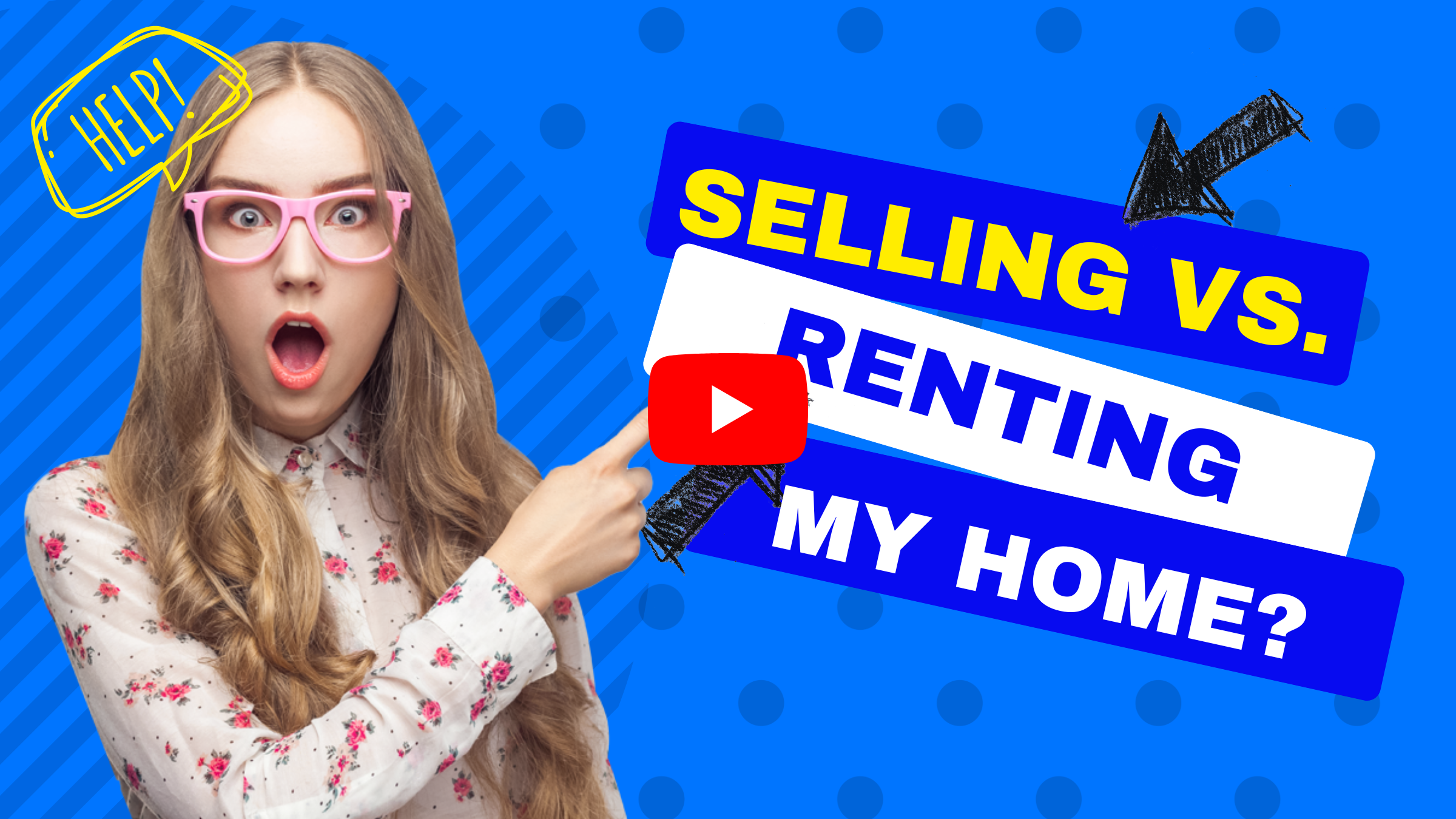 PROS AND CONS OF SELLING VS RENTING MY HOME
Are you trying to decide whether to sell your home or rent it out? This is a common dilemma for many homeowners. Here's the situation: You just bought a new home or are thinking about buying a new home and you are trying to decide what to do with your current property that you own and live in. Do you sell or rent it? It's a big decision that requires careful consideration of both the advantages and disadvantages of each option and more importantly how your choices will affect you moving forward.
Selling your home can provide you with a lump sum of cash and freedom from property management, while on the other hand, renting out your property can provide you with a steady stream of passive income and a long-term investment. The ultimate choice, however, is not quite as simple as that. Each option whether selling or renting the property has its upside and its downside.
Which option is both feasible and in your best interest?
In this video, we will explore the pros and cons of both selling and renting your home, so you can make an informed decision that's best for your unique situation.
And don't forget to stay tuned to the end of this video, where I'll tell you how you can get a copy of our FREE REPORT: Pros and Cons of Selling vs Renting your property- a homeowner's checklist. In this report we highlight all the pros and cons of each option. You can check off the factors that are relevant to you and in the end, you will have a tallied list of your pros and cons, that will ultimately assist you in making your best choice.
Now, Let's jump right into the evaluation of the pros and cons of selling vs renting property.


SELLING YOUR HOME
PROS OF SELLING YOUR HOME
Are you ready to make a change in your life and say goodbye to your current home? Selling your property can provide you with a range of benefits, from financial gains to a new sense of freedom. Let's look at some of the benefits of selling your home.


FINANCIAL GAIN:
One of the most obvious benefits of selling your home is the financial gain you can receive. The lump sum cash payment you will receive from the proceeds of sale can be used for various purposes, such as paying off debt, funding a new investment- such as a new home purchase, or covering unexpected expenses.
Depending on the current real estate market, the value of your property and your equity position, you could potentially make a significant profit from the sale. And if you're here in Canada, and the property was solely your principal residence, for every year you owned it, then usually, even if you realized a capital gain, you do not have to pay taxes on any of those gains from the sale, because of the principal residence tax exemption.


DEBT REDUCTION:
If you have high levels of debt, selling your home can provide you with a lump sum of cash. These funds can be used to pay off or reduce your debt, thereby improving your financial situation and potentially increasing your liquid assets.


OPPORTUNITY TO DOWNSIZE:
If you've outgrown your current home or are looking to reduce your monthly expenses, selling your property can provide you with the opportunity to downsize and purchase a smaller, less expensive home. In doing so you not only reduce your debt load and expenses, but you also increase your equity position on the new less expensive home, which may enable you to pursue other goals in life such as paying off part or all of your mortgage, having money in the bank or using the excess funds to live the life you envision such as travel or buying secondary vacation property.
??? If you are thinking about downsizing, you may want to check out my video WHAT TO CONSIDER WHEN DOWNSIZING


OPPORTUNITY TO UPGRADE:
If you've outgrown your current home, selling it may provide you with the opportunity to upgrade to a larger or more suitable property. The equity gains you will receive from the sale can be used to both finance and qualify for a new, more expensive, upgraded property.


FREEDOM FROM MAINTENANCE:
Owning a home comes with a range of responsibilities, from yard work, to fixing broken appliances, to the financial costs of home maintenance and ownership, to dealing with tenants. Selling your home can free you from these responsibilities and allow you to enjoy a stress-free lifestyle.


FRESH START:
Selling your home can give you the chance to move on to a new chapter in your life. Whether you're downsizing, upsizing, or just want a change of scenery, selling your home can make it easier to move on.
CONS OF SELLING YOUR HOME
So what are some of the negative aspects of selling your home?
EMOTIONAL TOLL:
Selling your home can be an emotional experience. For many people, their home is more than just a financial asset; it's a place with memories and emotional attachments. Selling it can be difficult, especially if you've lived there for many years and have a deep connection to the property.


COST OF SELLING:
There are financial and time factor costs to selling your home including; , potentially mortgage penalties if you are breaking your mortgage, real estate fees, legal fees; capital gains tax if you are selling a property that is not your principal residence; moving expenses and costs in terms of time in preparing your home for sale, packing and moving.


LOSS OF LONG TERM INVESTMENT:
If you sell your home, you'll no longer have the opportunity to benefit from its potential appreciation in value over time.


NO PASSIVE INCOME:
Unlike renting out your home, selling it provides no ongoing passive income in the form of rent payments, that can be used to towards the financing costs of buying or in terms of funds received that can be used to help offset your living expenses.
RENTING YOUR HOME
PROS OF HAVING YOUR HOME AS A RENTAL PROPERTY:
There are several positive outcomes of owning a rental property. Let's look at the pros or positive aspects of rental properties.


PASSIVE INCOME:
Rental properties provide a steady stream of passive income, which can be used to pay off the mortgage and financing costs of the rental property.


PASSIVE INCOME:
Passive income that is generated from the rental can also supplement other sources of income or it can be used for retirement.

APPRECIATION:
Over time, the value of rental properties can appreciate, potentially increasing the owner's net worth and providing a significant return on investment.


TAX BENEFITS:
Rental property owners may be eligible for a variety of tax benefits, including deductions for mortgage interest, property taxes, and operating expenses.


DIVERSIFICATION:
Owning a rental property can diversify an individual's portfolio, reducing risk and providing exposure to real estate.


CONTROL:
As a rental property owner, you have control over the property, including the ability to make improvements and upgrades that can increase the value of the property and generate higher rental income.
?????? Hey, if you find this information helpful, click the like button and subscribe to get notified about new, informative real estate videos.
CONS OF HAVING A RENTAL PROPERTY
LOSS OF LUMP SUM CASH PAYMENTS:
Keeping your property instead of selling it means the loss of lump sum cash payments received when selling. If you are keeping a primary residence to rent out, while purchasing a new property and a new primary residence, you will need to determine whether you can qualify for the new home purchase without selling your current property.
Although financial institutions will look at rent payments, they usually do not take them at 100% face value. How will you qualify for the purchase of a new home and the keeping of your current property. Do you qualify? And do you have available funds should your rental unit become vacant for a period of time, should you experience laps in rental payments or unforeseen property maintenance expenses?
??? For more information on affordability and financing, check out my video HOW TO CALCULATE YOUR HOME BUYING POWER


MAINTENANCE AND REPAIR:
Rental property owners are responsible for maintaining and repairing the property, which can be time-consuming and costly. In addition to financing costs, you will also have additional expenses related to property insurance, property tax and property management fees.

TENANT ISSUES:
Finding reliable tenants, collecting rent, and dealing with tenant-related issues can be a challenge for rental property owners.


REGULATIONS:
Rental property owners must comply with a range of local, provincial, and federal laws and regulations, which can be complex and time-consuming. There is a considerable number of regulations surrounding rental properties and the rights of both landlords and tenants under the Ontario Residential Tenancies Act. It is imperative that potential landlords understand the implications, risks, responsibilities, and limitations they face under these regulations, before they opt to become a landlord within the province of Ontario.


FINANCIAL RISK:
Owning rental property involves financial risk, as the value of the property can fluctuate, and the owner may incur expenses related to repairs, maintenance, non payment of rents and vacant units. If you are thinking about renting a property ideally you should have at least six months worth of rent payments set aside to be best prepared for such scenarios.


MANAGEMENT RESPONSIBILITY:
As a rental property owner, you are responsible for managing the property, which can be time-consuming and require specialized knowledge of the real estate market and local and provincial regulations.
THOUGHTS:
Deciding whether to sell your home or rent it out is a big decision that requires careful consideration of both the pros and cons of each option. Consider your individual circumstances, goals, and financial situation, and weigh the advantages and disadvantages before making a choice.
Ultimately, the right choice will depend on your unique situation and the priorities you have for your life and financial future.

If you have questions or would like to talk about your specific situation and your options, feel free to reach out. You can call 905-965-5902 or you can scan the QR code to set up a call. My name is Evelyn Lopes with The Evelyn Lopes Realty Team and I'm here to help.
---