Tuesday, April 25, 2023 / by Evelyn Lopes- Klarine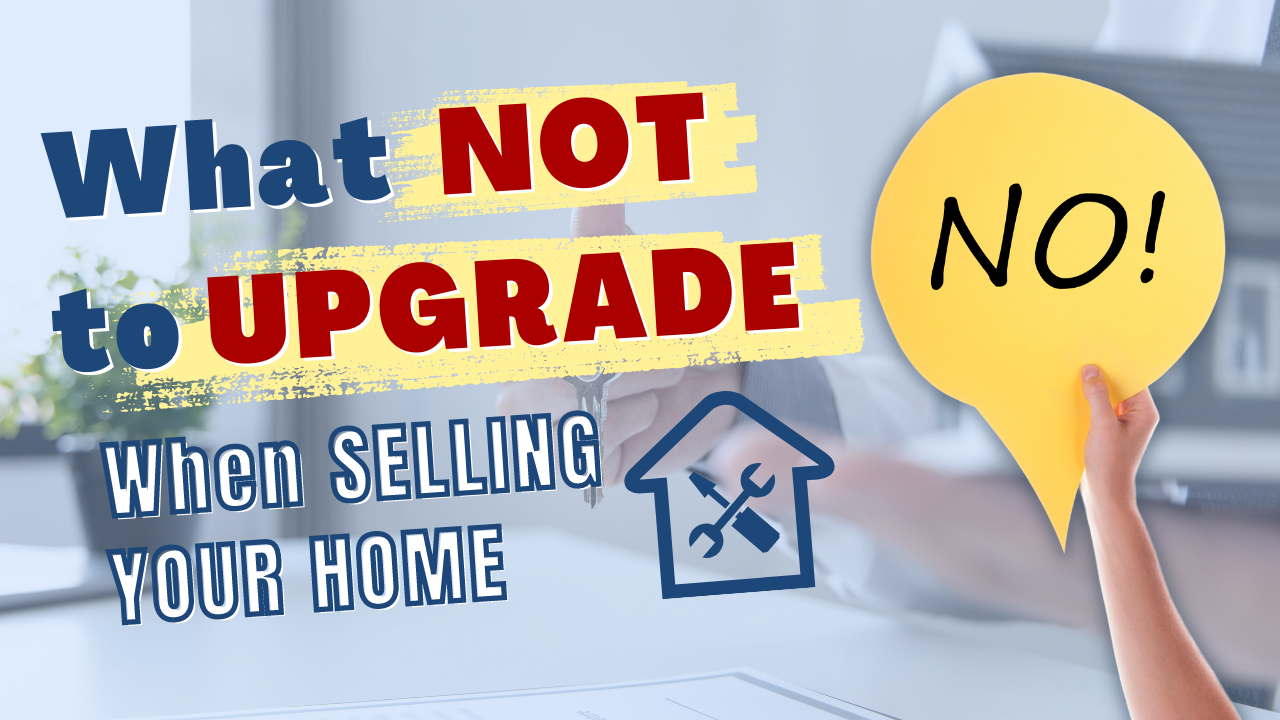 Selling your home can be a stressful and overwhelming process, but upgrading and improving your home before listing it on the market can help attract potential buyers and increase your chances of a successful sale. However, not all upgrades and improvements are worth the investment when it comes to selling your home. In fact, some upgrades may even hurt your chances of a successful sale or not yield a high return on investment. That's why in this article, we'll discuss what not to fix, upgrade, and improve when selling your home to save you time, money, and headaches.
Whether you're a homeowner, a home flipper, or a DIY (do it yourself) home seller, these home selling tips will help you increase your home's value and enable you to avoid costly home selling mistakes, make informed decisions, and get your home market-ready. If you are ready to dive into the world of selling your home and discover what NOT to upgrade and improve, then this real estate article is a must-read!
Are you ready to find out which home improvements are just NOT worth the investment? If you're ready to stop throwing your money out the window, it's important to know what is in demand by local buyers and what types of improvements may be nice to have but really don't cause buyers to pay for their full value. Stay tuned to learn what NOT to upgrade in your home before you sell. Here are 8 tips to guide you:
High-End Light Fixtures:
1. While stylish and eye-catching, high-end light fixtures can be expensive and may not necessarily increase your home's value. Instead, opt for simple, neutral, and affordable lighting options that appeal to a wider range of potential buyers.
Major Kitchen Renovations:
2. While an updated kitchen can be attractive to buyers, major kitchen renovations can be costly and may not yield a high return on investment. Focus on minor upgrades, such as repainting cabinets, updating hardware, or installing a new backsplash to improve the kitchen's appearance without breaking the bank.
Luxury Bathrooms:
3. Similar to major kitchen renovations, luxury bathroom upgrades can be expensive and may not provide a high return on investment. Instead, focus on minor updates like regrouting tiles, replacing faucets, or updating lighting to give your bathroom a fresh, clean look.
Elaborate Landscaping:
4. While beautiful landscaping can boost curb appeal, elaborate and high-maintenance landscaping can deter potential buyers who may not want to invest time and money in upkeep. Opt for low-maintenance, native plants and simple designs that appeal to a wider range of buyers.
Room Additions:
5. Adding rooms or extensions to your home can be expensive and may not significantly increase your home's value. Focus on maximizing the existing space by decluttering and organizing, or consider minor updates like painting and new flooring to improve the overall appeal.
Home Office Spaces:
6. While remote work has become more popular, dedicating an entire room to a home office may not be the best investment. Instead, stage a multi-purpose space that can be used as a home office, guest room, or playroom to appeal to a broader range of buyers.
Expensive Window Treatments:
7. While custom window treatments can add a touch of luxury to your home, they can also be quite costly and may not appeal to all buyers. Instead, opt for simple, neutral, and affordable window treatments such as blinds or curtains that can easily be replaced by the new homeowner to match their personal style.
Trendy Paint Colors:
8. Trendy paint colors may make a bold statement, but they can also be a turnoff to potential buyers who prefer more neutral tones. To appeal to the widest range of buyers, stick to timeless and neutral paint colors like whites, beiges, and light grays. This will allow buyers to envision themselves in the space and easily personalize it to their liking.
Conclusion:
In the end, upgrading and improving your home can be a valuable investment when preparing to sell, but it's essential to be strategic and practical in your approach. By avoiding expensive and unnecessary upgrades and focusing on cost-effective and universally appealing improvements that add perceived value by potential buyers, you can ensure that your home is market-ready without breaking the bank.Keep these 8 tips in mind as you prepare to sell your home, and remember that sometimes less is more when it comes to making your property appealing to potential buyers.
Understanding what buyers in your home's price range and market are looking for can help you make wise choices when thinking about improving your home's value. That's why it's crucial to partner and consult with a knowledgeable and experienced real estate team, like The Evelyn Lopes Realty Team. We can provide you with a free consultation on what to do and, more importantly, what not to do when preparing to sell your home, in today's competitive marketplace.
Have questions? Want to know what to do and more importantly what not to do to prepare your home for its target market? We are here to help! Call or text to 905-965-5902.



Good luck with your home selling journey!
---