Tuesday, May 16, 2023 / by Evelyn Lopes- Klarine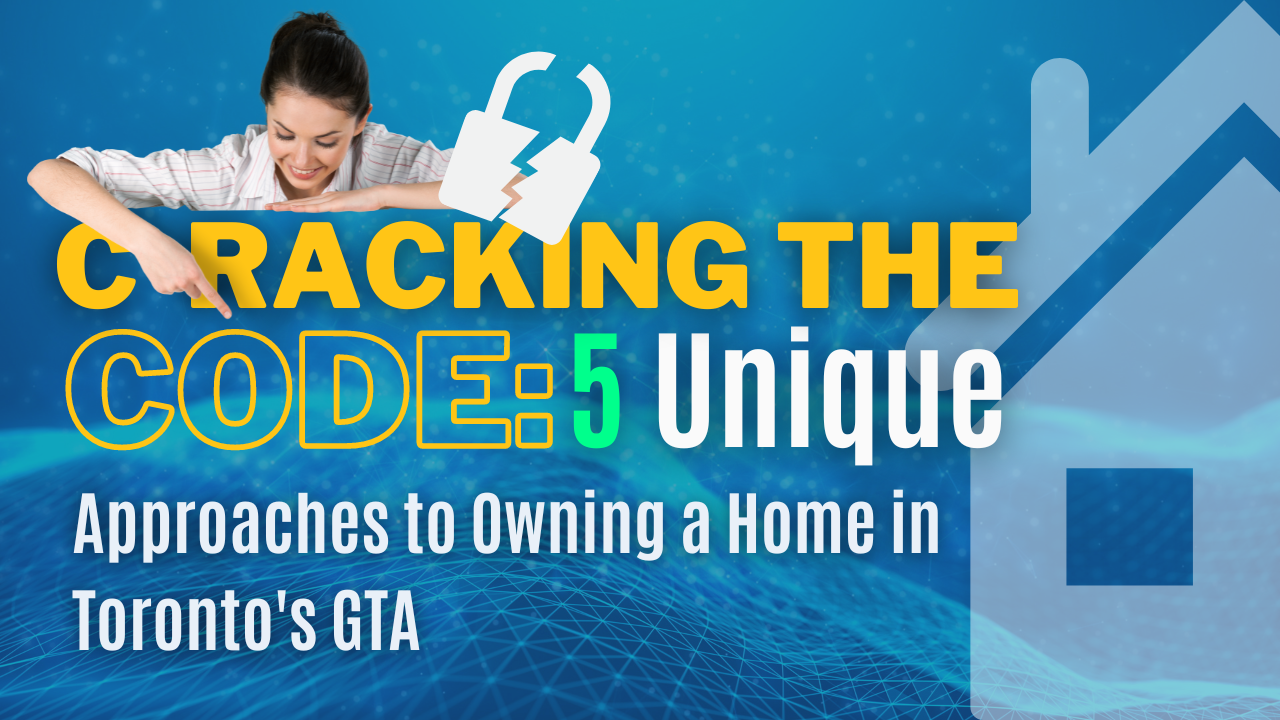 TIPS on How to OWN A HOME in high priced Toronto GTA- 5 Unique Approaches
Affordable Homeownership Strategies for Toronto GTA Communities! ????
Are you dreaming of owning a home in the vibrant Toronto GTA communities of Peel, Halton, Dufferin, or Wellington? We know that skyrocketing home prices can make it seem impossible, but fear not! We're here to share some creative and practical strategies to help you afford your dream home. From house hacking to tapping into your network for funding, we've got you covered. Let's explore these exciting options together! ????
House Hacking: Unlock the Potential of Your Home! ????
House hacking is a brilliant real estate investment strategy that allows you to generate income and offset your expenses by renting out a room or a basement apartment within your home. This extra income can even help you qualify for a larger mortgage, making homeownership more accessible. You can also explore unique opportunities like making your home available for photoshoots or offering paid parking in your driveway. Get creative and let your home work for you!
Tap Your Network for Financial Assistance! ????
Sometimes, a little help from your loved ones can go a long way. Consider leaning on your family or friends for financial support with your down payment or closing costs. They can provide you with a free-and-clear gift or co-sign your loan, potentially helping you secure a lower interest rate. Many first-time homebuyers have successfully used this strategy, so don't hesitate to ask for a helping hand.
Explore Unconventional Money Sources and Programs! ????
Did you know that there are various government programs, tax rebates, and funding opportunities available to homebuyers? Take advantage of them! The Government of Canada's First Home Savings Account (FHSA) can help you save tax-free money for your down payment. You may also qualify for a First-Time Home Buyers' Tax Credit, home buyer rebates, or utilize your Registered Retirement Savings Plans (RRSPs). Research these programs and maximize your savings potential.
Expand Your Search and Be Open to New Possibilities! ????
If you're struggling to find an affordable home in your desired neighborhood, consider broadening your search criteria. Explore up-and-coming areas or consider homes that may need a little TLC. By being flexible with your must-haves, you can find hidden gems that fit your budget. Remember, your first home is a stepping stone, and compromise can lead to great opportunities for future growth and investment.
Team Up with Friends or Family: Building Equity Together! ????
Co-purchasing a home with a friend or family member is a growing trend to combat rising living costs. You can share the financial responsibility, pool resources, and enjoy the benefits of shared living. However, it's crucial to establish a clear co-ownership agreement to avoid any misunderstandings. Additionally, be open to adjusting your expectations and priorities to find a suitable property that suits everyone's needs.
Owning a home in the Toronto GTA communities of Peel, Halton, Dufferin, or Wellington is within your reach! By implementing these creative strategies, such as house hacking, tapping into your network, exploring unconventional funding sources, expanding your search, or teaming up with loved ones, you can overcome financial barriers and achieve your dream of homeownership. Remember, we're here to guide you through the process and help you make informed decisions. Get ready to unlock the doors to your new home! ??????
?? For more information and additional creative ways to afford your first home, call or text to 905-965-5902 to set up a confidential no obligation call to uncover your opportunities.
---