Tuesday, November 21, 2023 / by Evelyn Lopes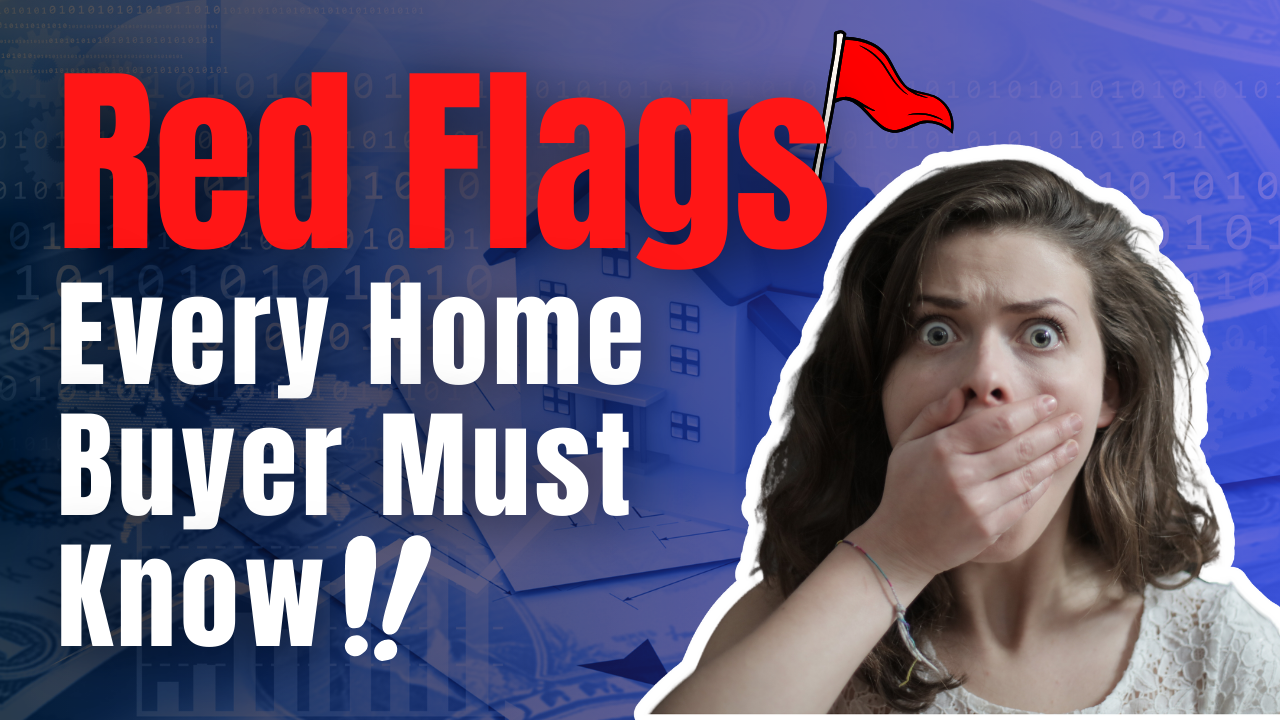 CLICK THE IMAGE TO WATCH THE FULL VIDEO

Hey there, Toronto GTA Homebuyers! Ready to make an offer on that seemingly perfect home? Wait just a moment! As a seasoned realtor, I'm here to share insider tips on 10 critical red flags that even the most experienced homebuyers often overlook. And, good news! At the end of this post, you'll find a link to download our exclusive RED FLAG HOME BUYER CHECKLIST, which includes these top 10 home buying red flags, plus a few additional ones crucial for your awareness.
Whether you're a first-time homebuyer, a seasoned property hunter, or even a seller looking to avoid common pitfalls, this advice is indispensable. Let's dive into these red flags that could potentially turn your dream home into a financial nightmare or as a seller cost you thousands when selling your home.
Red Flag #1:

Lack of Photos
You find a beautiful home online, but there are only a couple of exterior shots. What's missing? If key areas like the kitchen or bathrooms are absent from the listing, it's a sign that something might be amiss. Pro tip: Ask your realtor to find older photos from previous listings for a fuller picture.
Red Flag #2:

Water Stains
Water stains on walls or ceilings are a major alert. They could indicate hidden leaks causing damage you can't see. Pro Tip: Before making an offer, ensure these leaks are identified and inspected by a qualified home inspector.
Red Flag #3:

Sagging Ceilings or Floors
A sagging ceiling or floor points to potential structural issues, possibly due to leaks, movement, or even infestations. This is a significant concern that needs professional assessment.
Red Flag #4:

DIY Disasters
DIY projects can be great, but poorly executed home additions are a different story. If something looks homemade, check if proper permits were obtained. Lack of permits is a glaring red flag.
Red Flag #5:

Overpowering Scents
A house that hits you with strong scents upon entry might be hiding something, like pet odors or mold. Request a second showing without the air fresheners for a true sense of the smell.
Red Flag #6:

Poor Yard Drainage
Notice standing water in the yard after rain? This could indicate drainage issues, potentially leading to water damage in the basement.
Red Flag #7:

Foundation Cracks
Cracks in walls, especially near doors and windows, could signal foundation issues. A structural engineer's assessment is crucial here.
Red Flag #8:

Outdated Electrical Systems
Old two-prong outlets or fuse boxes suggest outdated electrical systems, posing safety risks and potentially costly upgrades. Pro Tip: Include a home inspection clause in your offer for a thorough check.
Red Flag #9:

Musty Basements or Attics
Unpleasant odors in these areas often point to mold, mildew, or pest problems. Trust your nose—if it smells off, it probably is.
Red Flag #10:

Frequent Property Turnover
If the house or neighborhood has a high turnover rate, it could indicate underlying issues with the property or area.


IN SUMMARY:
Buying a home is an exciting journey, but it's crucial to approach it with knowledge and caution. Being aware of these red flags can save you from headaches and financial strain.
Remember, as your trusted realtor, I'm here to support you every step of the way, from the initial tour to the final handover of keys. For more insider tips, don't forget to subscribe to our YouTube channel The Evelyn Lopes Realty Team at https://www.youtube.com/channel/UCLxCmuk4E7-qNUBrlTEERbA and ring that bell for more insightful information.
And for those who want a FREE COPY of the handy guide:- RED FLAG HOME BUYER CHECK LIST, click the link below to download our free Red Flag Checklist. If you have any questions or need personalized advice, feel free to reach out.
You're not alone in this journey. Let's find your dream home together, safely and smartly.
[Download the RED FLAG HOME BUYER CHECKLIST here]
---